Ekotribe Launches GreenSmart's Eco-Friendly Lunch Bags In The Middle East
(19 July 2010)
Speaking at the launch of GreenSmart products in the region, Anu Agarwal – Director of Ekotribe stated, "GreenSmart's new lunch bags are stylish, colorful bags that do everything a lunch bag should do-insulate and protect-without harm to the food, the consumer, or the environment."
Plastic bottles are one of the biggest environmental disasters today. These bottles, which are made from petroleum, find their way into landfills, rivers, lakes and roadsides. And they never decompose.
The technology exists today to convert these bottles into high-quality, durable fabrics which look and perform equal to their virgin counterparts.
All of GreenSmart fabrics are made from 100% certified post-consumer recycled PET bottles. You get a top quality product made from one of the most durable fabrics in the world, polyester, and save the planet at the same time.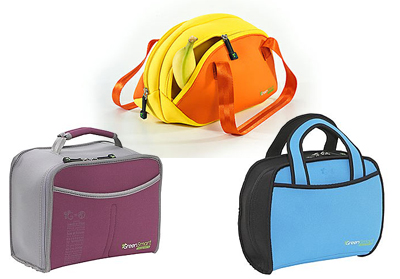 All GreenSmart lunch bags are made from Neogreene, a water-based material which allows for a much cleaner chemistry than 'Neoprene'. As a result, the production of the material uses 25% less petroleum, 25% less energy and completely eliminates the need to use toxin laden solvent adhesives to bind the fabrics to the Neogreene.
GreenSmart's lunch bag collection includes three styles: 'old school' Margay, the more progressive Javan, and the hip Sifaka; each offers all the benefits of Neogreene, fully closing compartments, and details varying to meet a range of needs. Each is available in four stylish color combinations.
About GreenSmart
GreenSmart, based in Grass Valley, California, has been making bags and accessories since 1995, switching to eco-conscious recycled PET materials in 2006 and introducing nontoxic, neoprene-alternative Neogreene in 2009. Their laptop bags, briefcases, and other items are sold nationwide through college bookstores and luggage and specialty stores.
GreenSmart earned recognition earlier this year for being the first western Nevada County, Calif. business to be green certified by 'Keep the Sierra Green'. Keep the Sierra Green is a new program, similar to those in other areas that encourage businesses to adopt sustainable economic and ecological practices. Co-founders Tom Larsen and Debbie Williams created GreenSmart from their shared passion for providing a quality product with minimal impact on the environment. Their vision includes not only environmental but social responsibility, guaranteeing the wellbeing of the factory worker, retailer, and consumer as well as the planet.
About Ekotribe
Ekotribe was started in early 2010 with a desire to introduce green living. Ekotribe offers a range of eco-friendly products including green gadgets and appliances, solar lights, reusable gift bags and shopping bags, recycled paper and stationery, eco-friendly shower heads, eco-friendly toys, BPA-free water bottles and lunch boxes, soy candles, organic beauty products, solar powered totes, solar powered backpacks, bamboo kitchen ware, eco-friendly household cleaners and biodegradable tableware.
Ekotribe supports environmentally friendly manufacturers & designers. All customers are guaranteed products which are 'green', easily absorbed into the ecosystem, without compromising on design or quality. Ekotribe strives to offer high quality products that are either - Biodegradable, Environmentally safe, Handmade, Natural, Recycled, Recyclable, Reusable, Sustainable or Organic. Ekotribe is promoting a lifestyle that includes being aware of the environment, yet enjoying high-end products without forgoing quality & design.

For more information, contact:
Anu Agarwal
Director
Ekotribe FZ LLC
An Enpark Company
P. O. Box 53735, Dubai
Tel: +9714-3327693
Email: media@ekotribe.com
Website: http://www.ekotribe.com
On Twitter at:
Website: http://twitter.com/ekotribe