Architect firm behind Ajman Marina's master plan ranked world #2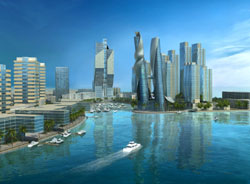 A comprehensive survey of the world's leading architecture firms conducted in the final quarter of 2007 has ranked HOK, the pioneering firm of architects responsible for the master plan of the prestigious Ajman Marina project, second on the list of the world's top 100 architecture firms.
Eng. Azad Nouri the general manager of Ajman Marina project says of the news, "Seeing HOK recognized for its innovative approach to the practice of architecture just re-affirms for us that we could not have chosen a better firm to team up with in the development of this project. Of course, the quality of service received from HOK speaks for itself, and we could not be happier with our choice of designers."
Launched in October of 2007, the US$3 billion multi-purpose project can be safely dubbed the 'jewel in the crown' of all the current developments within the emirate of Ajman. When it is completed in 2015, the realty venture will provide residential accommodation for 21,000 new residents, in addition to a number of commercial and entertainment areas spread over a stretch of 25 hectares of prime land.
Ajman Marina is expected to have a highly positive impact on the real estate, commercial and tourism sectors in the emirate. The project includes a yacht club and residential towers with a view of the Marina and the shores, as well as restaurants, entertainment facilities, a large shopping mall, hotels and offices. The emirate's free zone status and the easy access to commercial locations will also be an advantage. The Marina project fits perfectly with the emirate's giant strides in infrastructure, roads, services improvements, telecommunications, ports and free zones.
We accept Guest Posts